Micoblading, also known as 3D brows or Eyebrow Embroidery, is a form of eyebrow tattoo. A manual tool is used to create feather-like hair strokes with color pigment to the dermis layer of the skin in the eyebrow region.
Microblading is a form of permanent makeup due to the pigments used and results can last 12-18 months with a color refresh needed to maintain the most perfect results.
This method is ideal for anyone wanting to enhance the look of his or her eyebrows. Yes, microblading is suitable for men as well!
The results are natural-looking, hair-like strokes, regardless of the amount of hair present. People who are suffering from alopecia, chemotherapy, trichotillomania, or any other conditions that result in hair loss, benefit greatly from Microblading, as well as those who aren't happy with their sparse, thin or uneven eyebrows. Unfortunately, microblading is not suitable for those who suffer from oily skin. If you are someone who suffers from oily skin, then take a look at the other eyebrow tattoo techniques we have to offer to see which is most suited to you. 
Book a consultation or visit our number one clinic in Hanover, Baltimore today.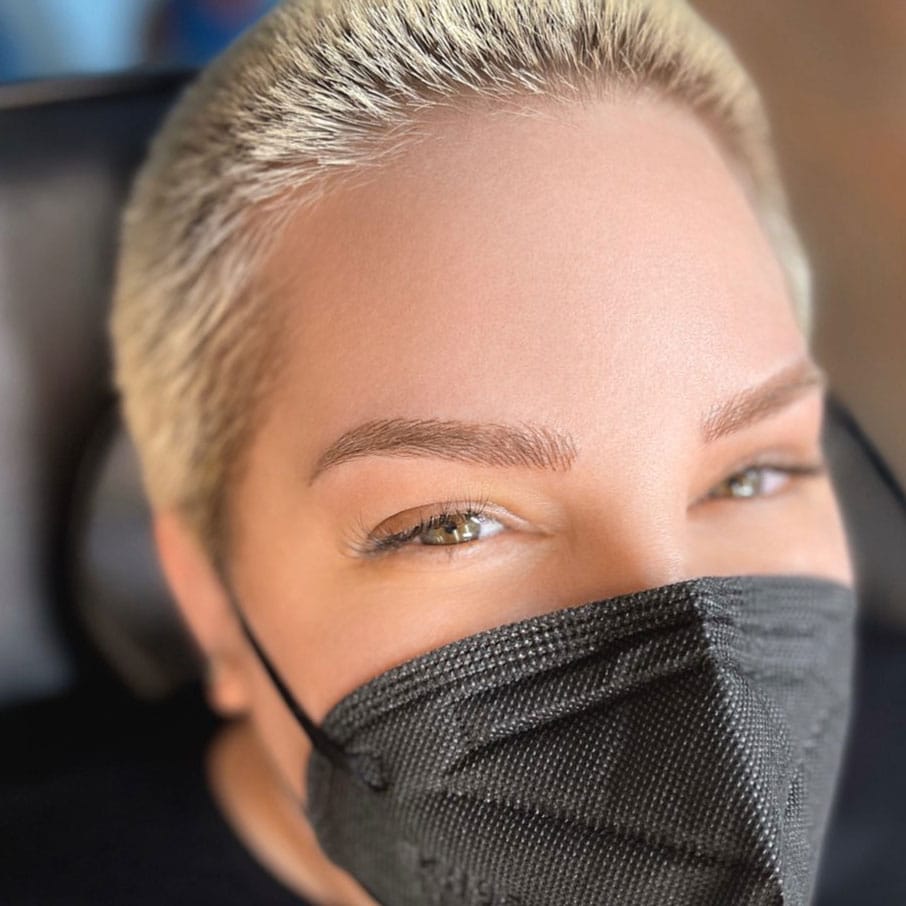 Frequently Asked Questions
As we discussed earlier Microblading is a semi-permanent tattoo technique where the pigment of the skin ismanually placed into the dermis layer of the skin. This technique is the latest tattoo trend to creating beautiful brows.
Is this the same as an eyebrow tattoo?
Absolutely not. The end result in the Microblading process is very natural because of the techniques involved as it only penetrates the outermost layer of the skin. The strokes thus result in a hair like appearance. Hair strokes are created one by one, unlike the traditional eyebrow tattoos where the entire eyebrow is filled in 'block style'.
Does the Microblading Application Hurt?
Numbing cream is applied prior to the Microblading procedure to ease any discomfort a client may have. Clients tend to relate the feeling of Microblading to that of threading eyebrows, or a discomfort level of 3 on a scale of 1-10. Every skin type is different and level of sensitivity, but the results are worth it!
How Long does Microblading last?
There is no guarantee to how long the Microblading appearance will last given there are a lot of factors that must be considered. [i.e. skin type, skin care regimen, sun exposure, iron deficiency, hormones, etc.] Generally, the procedure tends to last anywhere from a full year to a year and a half. It is required to get a refresher every year to keep your lovely brows looking their best! If you go past one year, you will have to start the full service again.
What is the healing process?
Your new brows will go through quite a bit of changes throughout the healing process. Do not panic! At first they will be very dark, within the first 2 weeks or so they will lighten up about 40%. In the first 10 days, you will notice mild scabbing and flaking… this is normal and expected. Scabs will naturally fall off and it is crucial you do not pick at the scabs. During week 3, the skin is going through its regeneration phase as the ink is settling and it may even appear that the tattoo has vanished.
No worries! In week 4, is it very important that you schedule any necessary touch ups that the scabs may have taken the ink from while healing.
Why are those with oily skin not suitable for microblading?
Unfortunately if you suffer from oily skin, the hairstrokes of microblading will not result in sharp, natural lines. Due to the sebum created, you will find the pigment will blur and merge together. If you are wanting permanent eyebrows and suffer from oily skin, take a look at our other brow tattoo services we offer.